A seven-day road journey across Victoria isn't necessarily a celebration of 'slow travel.' This magnificent state simply has so much to explore, with some of the most famous beaches in the world (over 2,500km in length), a plethora of outstanding national parks, charming villages. With more than enough extraordinary sights to fill a week, cramming all of Victoria's adventure capacity into seven days is a difficult task, but it is doable. You just have to know where to look! I recently spent a week exploring the area in a Jucy Rentals Crib and thoroughly enjoyed every minute of it. So, let me share my experience of planning a road trip to Melbourne.
What is the Best Time for a Road Trip to Melbourne From Sydney?
Melbourne and Sydney are fortunate to have some of Australia's more temperate weather. There is no reason to be concerned about hot, unbearable heat or the possibility of deadly cyclones in the southeast. For the majority of the year, the weather is extremely cool, although, throughout the season, you will experience scorching, sunny days that are ideal for beachgoers.
There are four seasons in Australia, with the hottest months being November to March. Summer can be unbearably hot in both Melbourne and Sydney, and the beginning and end of summer are perhaps the perfect times to go on a road trip in Melbourne. Winter will be even colder and there can be a lot of storms, but it won't stop you from having fun on the road trip in Melbourne and you can plan on camping out along the way at night. Only be sure to bring a couple of extra sweaters and a comfortable jacket.
Road Trip to Melbourne From Sydney: Pre-trip Essentials
Here is the list of some pre-trip essentials that you should definitely know when planning a road trip to Melbourne.
Plans from Optus (located just outside the airport's arrival gates) start at AU$30 for 3GB of data and unrestricted local calls. If you are lucky, there may be exclusive offers, such as AU$10 for 15GB (lasts for 7 days).
Taxis from the airport to the Melbourne CBD are costly. A taxi trip into town would cost between AU$55 and AU$70. If you're traveling alone or in a group, book the Con-x-ion airport shuttle service via Klook for S$25 per individual. This service will pick you up from the airport with up to ten other passengers (including yourself) and take you straight to your destination. A cheaper option is the Skybus (AU$19.80), which will help you reach Southern Cross Station.
If you wish to rather stay in a beautiful Airbnb or accommodation, renting a vehicle is the next best thing. If you need to rent a vehicle, go to Rentalcars.com. They offer the best prices.
11 Top Rated Best Day Trips Destinations in Melbourne
Find below a list of the best road trip destinations in Melbourne that you can plan on visiting while in Australia.
1. Great Ocean Road
2. Phillip Island
3. The Yarra Valley and the Dandenong Ranges
4. The Shire of Mornington Peninsula
5. Grampians National Park
6. Wilsons Promontory National Park
7. Daylesford: Day Spas and Mineral Springs
8. Lorne
9. Ballarat's Sovereign Hill
10. Skiing on Mount Buller
11. The Macedon Ranges' Hanging Rock Reserve
Is it Cheaper to Drive or Fly From Sydney to Melbourne?
Driving is normally the cheapest mode of transportation if you have a traveling squad that can split the cost of gas. Driving will always take more time than flying, so flying is definitely the better option if you want to get somewhere quickly.
Other Things to See and Do in Melbourne
Whether you're visiting Melbourne for the first time as a student, there are certain definite must-do Melbourne bucket list things. Melbourne's cuisine, drink, coffee, art, theatre, and sport cultures are among the finest in the world, and I believe you should attempt to experience them all at least.
1. Visiting the cafés is a must
Melbourne's café culture is deeply rooted in its DNA. Everyone here enjoys a cup of tea or coffee as well as a snack while working or chatting in a hip café.
2. Partying in St. Kilda
It's the place to see Melbourne's popular nightlife district, which is home to affordable restaurants, bars, and clubs.
3. Movies in the park under the moonlight
During the summer, the Royal Botanic Gardens hosts nightly movies (Most of them are big Hollywood blockbusters). You are welcome to bring your food and beverages and enjoy a relaxing lunch while watching great films.
4. See the Flinders Street Station
Flinders Street Station opened in 1854, is a major landmark and iconic meeting place in Melbourne's central business district. The station has huge clock faces and Victorian architecture. In the 1920s, it was the world's largest railway station, and it is now said to be the largest railway station in the Southern Hemisphere.
5. Take a stroll around Federation Square
Federation Square is located across the street from Flinders Street Station and along the path of the free City Circle train. This open square, which was established in 1968 and spans approximately 8 acres, provides excellent people-watching opportunities.
6. Take a visit to Victoria's National Gallery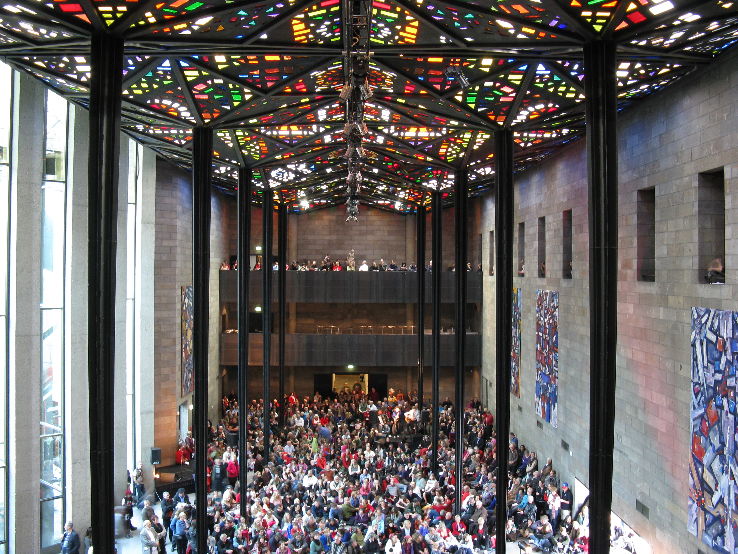 The National Gallery of Australia is the largest, oldest, and most-visited art museum in the country (over 3 million people visit each year). About 75,000 works of art, including modern and contemporary art, sculptures, drawings, and works by aboriginal and indigenous artists, are on display.
7. Visit the Victoria State Library
The State Library of Victoria is a landmark institution with an annual attendance of 8 million people. The library, which was constructed in 1856, has evolved into an event space that is a source of pride for city residents. If you come here before it opens, you'll see a line of people waiting to jump on the available seats. With its octagonal form, original dark wood furniture, and book-lined walls, the iconic central rotunda is a must-see.
8. Take a stroll around the Como House and Gardens
This regal estate, which is over 160 years old, is a combination of classic Italianate architecture and Australian regency. It is regarded as the best of the city's historic buildings, providing a rare insight into the opulent and comfortable life of high society in nineteenth-century Australia.
---
Recommended Read:
Study Abroad Student Experiences During COVID-19
7 Study Abroad Stories to Fire Up Your Wanderlust